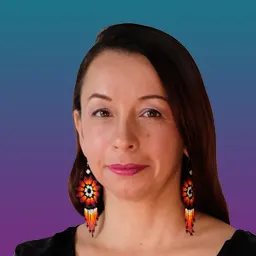 Alejandra León
ALEJANDRA LEÓN BIOGRAFY
One thing is working only with the mind...
Another is working with someone who brings together mind, body, spirit and magic
Hello, I'm Alejandra León.
I have over 20 years of experience as a psychologist. This journey has led me to leave clinical and conventional practice to fully dedicate myself to therapeutic accompaniment with a holistic approach that recognizes the profound interaction between the mind, body, emotions, and spirit.
Throughout my practice, I discovered that many of my clients were interested in exploring a different approach to resolving their physical and emotional conflicts. This was the starting point for my project: Holistic Therapy Home. This healing space is the result of integrating a wide range of therapeutic techniques that I have acquired throughout my continuous learning journey.
Among the techniques I use are Transpersonal Psychology, Energy Healing Therapies, the Enneagram, Family Constellations, transgenerational family therapy, regression therapy, Psicotarot, Shamanism, Coaching, Biological Decoding of Illnesses, Counseling, and many more. These tools allow me to address the unique needs of each individual and accompany them in their process of holistic healing.
If you would like to learn more about me and my therapeutic approach, feel free to explore my profile.
Yes, but tell me something interesting...
My passions
I love cooking, alchemy with spices, and enjoying sharing my flavor with others: It's my meditation space.
I enjoy traveling, escaping to nature whenever I can. My being needs to see the green of the countryside to recharge.
I delight in trying new flavors, visiting markets, and eating everything.
I love Mexican food. It's one of the things I carry with me from my time in that beautiful country.
It seems like I only talk about food... maybe it's my hobby along with a good beer, wines, and cheeses.
My Calling
I discovered my gifts of channeling and holistic healing from a very young age. At the age of six, I already perceived the subtle world clearly and listened to beings seeking to transition to the beyond, as well as beings of light.
My Ancestors
I was fortunate to grow up in a family of indigenous origin, where visions, herbs, ointments, and intuitive healing were part of the lives of my mother, grandmother, and great-grandmother, from whom I inherited the legacy of Healing and Channeling. Since then, I have been the "bruji" (witch) of the family.
I Can't Stop...
Learning new things, I am self-taught and sometimes scattered, learning from here and there.
My Gratitude
Since I was little, I have been accompanied by special beings and great teachers who have contributed to my spiritual development and my holistic healing, guidance, and therapeutic vocation. In my adolescence, life put a priest in my path who understood my pain, helped me see my shadow, my fear, and accept my intuition, ACCEPT MYSELF. Above all, he taught me to create my life project, to dream and make dreams come true.
By vocation I'm a psychologist,
and a healer in my heart and soul
My Education
Academic Education
2003. Bachelor's Degree in Psychology. Pontifical Xavierian University - Bogotá. Homologated by the Autonomous University of Barcelona - Spain
2004. Diploma in Human Rights. Pontifical Xavierian University - Bogotá
2007. Master's Degree in Immigration. Autonomous University of Madrid.
2008. Master's Degree in Human Resources Management. Professional College of Political Scientists and Sociologists of Madrid.
2014. Counselor in Biological Decoding - Ecole de Biodécodage de France.
2015-2016. Master's Degree in Transpersonal Psychology. School of Attention. Madrid - Spain.
2017. Specialization in Counseling. Center for Humanization of Health, accredited by the Pere Tarrés University.
Additional Holistic Training
1998. Reiki Isui - Colombia
2001. Family Constellations - Lucero Rakasa - Mexico
2001. Foundations of the Enneagram - Mexico
2003. Runes with Therapeutic Focus - Mapy Consuegra - Colombia
2006. Regression Therapy and Rebirth - Colombia - Spain
2009. Emotional Intelligence - Spain
2011. Tarot and the Psychology of Archetypes, in the light of the Hero's Journey - Madrid, Spain
2012. Coaching - Personal Development and Career Guidance - Madrid, Spain
2012-2013. Transpersonal Psychology and Pneuma System - Madrid, Spain
2019. Nursing Intervention in Grief - Madrid, Spain
2020. Funeral Protocol